8 Days and 9 nights painting in Bright and Mt Buffalo when the weather is only a little cooler and the leaves are turning.
Pastel & Watercolour art workshops
Australian Tour Autumn 2023
Simply drop us an email to register your interest. Please fill out the
booking form.
We are arriving in Bright on Friday March 24th and booking out on Sunday 2nd April.
There are two options for artists planning to travel to this beautiful part of Victoria.
We are staying at the Big 4 holiday village
(well appointed, luxury villas - not caravans)
on the Ovens River and a short stroll to the shops, coffee shops and restaurants of Bright.
If you want to stay where we all are, and would like the details sorted out by us
a) let us know
ASAP - villas could book out early for this time of year.
- Once we receive your deposit we will
secure your villa.
Your $278 deposit will be your up front booking amount for a shared villa.
Please note
This tiny fine print
:- In case of cancellation longer than 30 days (i.e Midnight on 22nd Feb) before arrival, the accommodation Venue retains a $100 fee per booking. If you are sharing the villa this would be $50 each. This will be deducted from your deposit.
If less than 30 days full payment for your villa will be required.
We have been able to secure a number of what we consider to be the best accommodation,
luxury spa villas with two private bedrooms, one bathroom, fully equiped kitchen,
laundry facilities, lounge and verandah. Artists who want to stay close as a group and are happy to share the villa with one other and take advantage of being able to
relax and simply look forward to a painting holiday with artists who love to paint and watch the daily hints and demos, and enjoy the beauty of Bright, the surrounding towns and waterways and the vistas from Mt Buffalo. There will be the relaxed gatherings to watch demonstrations or share hints on how to improve your paintings. You have the freedom to prepare your own or visit the many restaurants nearby or byo meals to Lyn and Julie's gathering spot on site. There is much to explore and you will have one free day to personalise your visit however you choose - exploring, visiting, resting, finishing a painting, -it's your day....
Secure and fund your own accommodation and join us by booking the tuition and group workshop arrangements.
Please note that we have already experienced the popularity of the area at this time of year. It is wise to secure your accommodation as soon as possib
le
. The deposit is the same amount.
Plein air in Bright and Mt Buffalo
Julie Goldspink and Lyn Mellady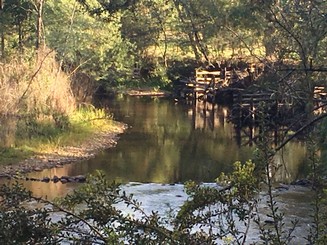 small group




by the Ovens River

This is a 1 hr 20 minutes road trip from Albury airport or just over 3 hours from Melbourne airport




Welcome gathering Friday 24th 5pm

Farewell celebration dinner.

Book out Sunday morning April 2nd




Fee:-

Option one

including accommodation and workshop fees $2780 PP.

A single person supplement may be possible if a villa is available.
Option two

workshop fee without accommodation $1300 pp

Both options require the same initial deposit of $278.

Book Now

which includes a non refundable amount of $100

Please note. Any freight charges are not applicable to workshop bookings or painting trips. A charge may appear in the 1st shopping cart page. This will be removed by you on the final page before you confirm your booking.
Lyn Mellady – is best known for her river and seascapes in pastel and oil. She is a trained
teacher, whose travels were the start of her desire to bring home more than photo. This was the beginning of her painting career. Since 1980 her work has not only won many awards and recognition, but sharing her knowledge with tutoring Australia wide including the Australian Pastel expo in 2018 and 2022 has become her perfect mix. Lyn has five paintings in government collections, is a member of Fusionsix portrait artists, whose exhibition travelled to 3 regional galleries across Australia. Lyn is an art judge and ex AGRA president who established the Australian Art Excellence Awards with the backing of Terri Dodd and Australian Artist in 2000.
Her most recent article was published in the Australian Artist Magazine in Feb. 2019.
Julie Goldspink – artist, travels frequently, giving workshops Australia wide. She has many followers here and internationally wide who love her watercolours and / or teaching. Tutoring in watercolour and mixed media, with extensive knowledge in most mediums, Julie loves to paint land, rivers, sea or flowers – wherever the light falls and has a long list of awards. Julie featured on Graeme Stevenson's Put Some Colour in Your Life. Her most recent article was published in the Australian Artist Magazine in Dec,Jan 2018/19.
e $1980 is the single supplement price.(A bedroom to yourself) A twin shared room is $1590 PP.
Travel cancellation insurance is always a good option.
Please note, choice of villa is allocated, strictly in the order that your booking deposit is received.
Non painting partners deduct $500 but are always welcome at group dinners/functions.
Cancellations will forfeit accommodation costs as set by the venue hosts.
If you would like more information about this tour, contact us.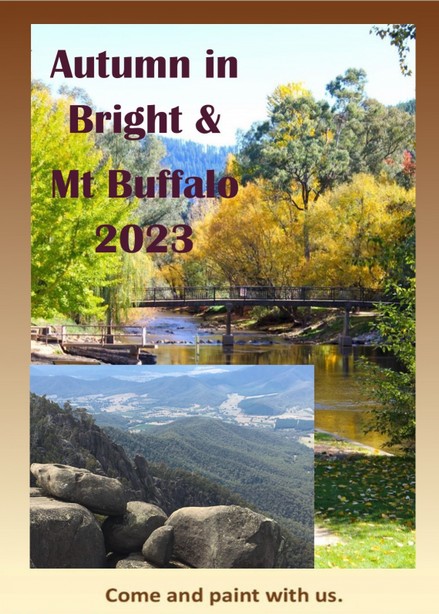 ...................................